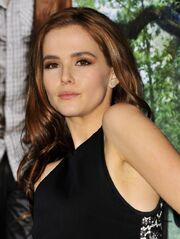 Zoey Francis Thompson Deutch plays the role of Maya Bennett in The Suite Life on Deck. She appeared in "My Oh Maya", "Party On!", "Das Boots", "Love and War", "Snakes on a Boat", "Prom Night", and "Graduation on Deck". She is the daughter of actress Lea Thompson and director Howard Deutch.
Other roles
Juliet Martin in the show Ringer.
The blue-masked girl in an episode of Criminal Minds: Suspect Behavior.
Lana Maroni in the movie, Mayor Cupcake.
Lauren in the NCIS episode, "One Last Score".
Willow Turner in the movie, Hallelujah.
Emily Asher in Beautiful Creatures.
Elisa in Switched At Birth.
Rose Hathaway in Vampire Academy.
External links
Ad blocker interference detected!
Wikia is a free-to-use site that makes money from advertising. We have a modified experience for viewers using ad blockers

Wikia is not accessible if you've made further modifications. Remove the custom ad blocker rule(s) and the page will load as expected.