It is the uniform of the Tipton Hotel, in 86 episodes they are the same, but in Grounded on the 23rd Floor, there are many differences, maybe because is the original plot (with 101 Production Code)
Men
For the men, is a green suit, with green pants, and in the suit a "T" of Tipton.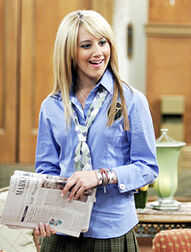 Woman
For the women, is exactly as the men's, with the difference, it has a different suite. Also, if any like, will be changed for a blouse and a skirt, as Maddie.
Waiters
The waiters has a vest, with a white jacket.
Lifeguards
The lifeguards, as Lance, have only a green shirt (with the T), with shortpants.
Ad blocker interference detected!
Wikia is a free-to-use site that makes money from advertising. We have a modified experience for viewers using ad blockers

Wikia is not accessible if you've made further modifications. Remove the custom ad blocker rule(s) and the page will load as expected.