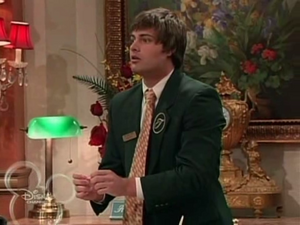 Skippy
is the night manager at the Tipton. However, in some episodes, he is shown being manager during the day. He has been confirmed to appear in five episodes of
The Suite Life of Zack and Cody
:
Season 1:
Commercial Breaks (cameo)
Season 2:

Season 3:
Possible Error
In Scary Movie, Mr. Moseby called him "Sparky." However, it may mean Mr. Moseby didn't know his name.
Actor
Skippy is played by Bo Crutcher.
Ad blocker interference detected!
Wikia is a free-to-use site that makes money from advertising. We have a modified experience for viewers using ad blockers

Wikia is not accessible if you've made further modifications. Remove the custom ad blocker rule(s) and the page will load as expected.