This article is about the fictional TV show. You may be looking for the episode.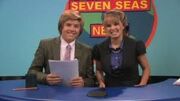 Seven Seas News is a TV show Ms. Tutwieller set up in the episode of the same name. Zack and Bailey are co-anchors, Woody is the cameraman, Cody is the roving reporter, and London is the Weathergirl.
Story
Seven Seas News was shown on the S.S. Tipton's private channel, replacing Boat Cops, Kirby's reality TV show about enforcing law on the boat.
!
This section of the article is a stub. You can help by expanding it.
See also
| | |
| --- | --- |
| | This article is a stub. You can help The Suite Life Wiki by expanding it. |
Ad blocker interference detected!
Wikia is a free-to-use site that makes money from advertising. We have a modified experience for viewers using ad blockers

Wikia is not accessible if you've made further modifications. Remove the custom ad blocker rule(s) and the page will load as expected.