S.S. Tipton
Talk

0
502pages on
this wiki
I've gotta' clean it up!!

This article needs to be tidied up to meet The Suite Life Wiki's standards of quality.
You can help clean up by reworking the article in general.
The S.S. Tipton or Steam Ship Tipton was a civilian cruise liner featured in the The Suite Life of Zack & Cody and The Suite Life on Deck. The two principle workers included Mr. Moseby and Emma Tutweiller. The ship also had a high school on board. This high school was taught by Emma Tutweiller and was the current school of Zack and Cody. The ship traveled throughout the world and stopped at countless ports and harbors. This ship also featured a grand dining room, gym, ballroom, bar, swimming pool, hot tub, bingo room, lifeboats, and stroll deck like many other ships. The ship's passenger capacity was about 2,000 people. The ship's weight was at least 87,000 tons and it was 13 stories high above sea level. The ship also had the largest shopping center ever floating. The ship was around 250–300 meters long and ìt drove on heating water which means it was environmental friendly. In Graduation on Deck, Mr. Tipton sold the S.S. Tipton and the ship was dismantled after docking in New York.
S.S Tipton Staff
Cabins
For Adult Passengers
Luxury suites with living rooms, dressing tables, and private bedrooms with bathroom.
For Crew & Students
Tiny cabins with two single beds, closet, bathroom, and two writing desks.
Passenger's Cabins
Other Locations on the S.S. Tipton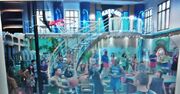 Locations the Ship has Docked At
Main article: List of Locations Visited by the S.S. Tipton
Activities

The Ship is well known for almost unlimited activities. The following have been mentioned or seen aboard the ship.
Waterslide
Water Sports
Wave Pool
Parasailing
Laser Tag
Rock Climbing Wall
Miniature Golf Course
5 Star Restaurants and Spa
Yoga
Surfing Machine
Basketball Court
Pizza and Doughnut Parlors
Cinema
Volleyball
Aquarium
Shopping Mall
Game Hall
Jogging Track
Senior Bingo
Grand Ballroom Parties
Karate Training
Seaweed wrap
Fishing
Casino
Skeet Shooting
Students
Main article: Seven Seas High#Students
Note: This list also includes graduated, failed, and relocated students. Please see the above article for a more comprehensive list.
Donna
Frank
Cissy Yankovic
Josh
Suzzy Weinblat
Zelda Zisix
Gallery
Age
It can debated how old the S.S. Tipton is, but Mr. Moseby stated in The Kidney of the Sea that the ship had its plank removed in the eighteenth century, making it possibly over four hundred years old. When Mr. Moseby gave Captain Lungsford a model replica of the very first S.S. Tipton in the episode, Cruisin' for a Bruisin', it looked to be ancient, as it featured old-fashioned sails, and was made of wood. It is possible that the ship has been heavily renovated and refurbished since this time, as Mr. Moseby did say that it was a model of the 'first' S.S. Tipton.