Harper Finkle
Talk

0
498pages on
this wiki
I've gotta' clean it up!!

This article needs to be tidied up to meet The Suite Life Wiki's standards of quality.
You can help clean up by Article needs more about crossover episode and less about WOWP..
Harper Finkle

Character Statistics
Gender:
Female
Alias:
Alex Russo (her best friend's name, used in "Cast Away to Another Show")
Nickname:
"What's Her Face" (by Dean Moriarty),
"Harpo" (by Madgalena Larkin),
"Finkle" (by Mr. Frenchy, in "Fashion Week" and Dean Moriarty in "Wizards VS. Vampires: Dream Date")
Lives In:
Waverly Sub Station, New York City
Relationships
Brother(s):
unnamed younger brother
Mother:
Elaine Finkle
Father:
Marty Finkle
Grandparent(s):
Franny (grandmom)
Nemesis:
Gigi
Friend(s):
Alex, Zack, Cody, Bailey, Justin, Max
Employment:
Waitress,
Fashion designer's assistant,
Chicken at a roller rink,
Author (in "Future Harper")
Production Info
Portrayed by:
Jennifer Stone
First Appearance:
"Crazy Ten Minute Sale" (WOWP)
"Double Crossed" (TSLOD)
Harper J. Finkle
is a fictional character on the Disney Channel sitcom
Wizards of Waverly Place
, played by
Jennifer Stone
. She is the best friend of the show's main character
Alex Russo
(
Selena Gomez
) and has an obsessive crush on Alex's older brother
Justin
(
David Henrie
), which Justin doesn't return. Harper is a typical teenager. Being self-expressive, but a little insecure at times. Unlike Alex, she is a hard-working student and a farely positive person, but still connects well with Alex. Harper is known for her outrageous fashion ensembles that she designs herself, most of which are "food-themed", such as one outfit seen in the season one episode "Credit Check" which resembled a cupcake. No one ever tells her fashion designs are terrible. Not alone does she create her own clothes she also makes her own jewellery as seen in the episode Art Museum Piece, when she starts a booth selling her necklaces made of macaroni, glitter, and knobs from Alex's room. Despite her her unseemly fashion choices, she believes it is better to stand out as an individual, and is confident that she will excel at whatever she tries, no matter what people think.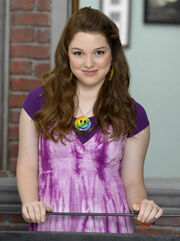 She is oblivious of the fact that Alex, Max and Justin are wizards until the episode "Harper Knows" when Alex finally told her because she felt guilty for not telling the truth to her best friend. This was also the first time Harper experienced the use of magic when Alex gave her a charmed costume with super powers. She is often paranoid of Alex's schemes, especially after she finds out about magic, but reluctantly gets involved anyway. Despite Alex's controlling and manipulative behavior, Harper always sees the good side in Alex and is willing to be accepting of her in sake of their friendship. She has known Alex since kindergarten and always there when Alex needs support. In season three it is revealed that Harper is a cheerleader, which is the only secret Harper has ever kept from Alex. Although never seen, there are a lot of references that say she comes from a dysfunctional family. Her parents apparently don't get along and are in therapy. In "Wizards vs. Vampires: Tastey Bites", when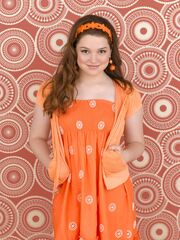 Alex is so fed with her family's new healthy living, she says
"I'm so desperate, I'm thinking about going to Harper's house"
, meaning that Harper's house is wild. In "Alex Does Good", Harper blurts out
"It's about time I got some appreciation Mom!"
, claiming that her mom doesn't appreciate her. Harper moves in with Alex and the Russos in Season three, most likely because of her home. (well, that and because her dad got transferred to Pittsburgh and Harper didn't want to leave Alex). In the episode "Future Harper", it's revealed that Harper becomes a famous author, who writes books based on the Russo's wizard adventures, and writes under the name
H.J. Darling
(parody of J.K. Rowling). Alex, Justin, and Max find this out when they go to confront the author of the books(seven books in the series
Charmed and Dangerous
) that mysteriously mimic their lives. As the older Harper (Rachel Dratch) tells them, she writes her books in the present day because in the future, all mortals know about magic, and books about wizards aren't as interesting to read in that time period. She doesn't tell the Russo kids who it was that revealed the existence of wizards, other than it happens to be one of the three. It's unknown if she ever married a someone with the last name Darling, or if she just uses the name H.J. Darling as way to keep her identity safe in the present day. Jennifer Stone does not appear as Harper in "You Can't Always Get What You Carpet" (which was actually the first episode produced, but the sixth episode broadcast—the episode was aired out of production order). It is likely that the character of Harper must have been added after the series was picked up by Disney Channel.
External links
Edit