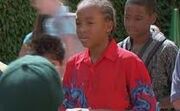 Drew is a pre-teen who appeared as an antagonist in the episode "Hotel Hangout".
Story
Zack and Cody met Drew on their first day of school in Boston, but as Drew was one of the "cool kids", the twins were shunned. When Drew finds out that Zack and Cody live in the Tipton Hotel, he inducts them into his crew. But after they discover that he's just using them to get to the hotel, they force him to leave, instead choosing to hang out with Max and Tapeworm.
!
This section of the article is a stub. You can help by expanding it.
| | |
| --- | --- |
| | This article is a stub. You can help The Suite Life Wiki by expanding it. |
Ad blocker interference detected!
Wikia is a free-to-use site that makes money from advertising. We have a modified experience for viewers using ad blockers

Wikia is not accessible if you've made further modifications. Remove the custom ad blocker rule(s) and the page will load as expected.