We're going to need more plaster...

This page is currently under construction. You can help by adding reliable information.
The only thing missing is a bearded lady.

This article's missing some things.
You can help expand by adding: general content.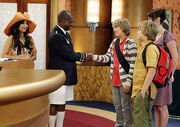 This article is about the lobby from the S.S. Tipton. You may be looking for the lobby from the Tipton Hotel.
The Atrium is one of the main sets seen in The Suite Life on Deck. It is located just inside the S.S. Tipton's gangplank where Mr. Moseby's check-in desk is and where the elevators converge. It is mostly frequented by students and passengers, and is seen as a great place to chat and relax.
| | |
| --- | --- |
| | This article is a stub. You can help The Suite Life Wiki by expanding it. |
Ad blocker interference detected!
Wikia is a free-to-use site that makes money from advertising. We have a modified experience for viewers using ad blockers

Wikia is not accessible if you've made further modifications. Remove the custom ad blocker rule(s) and the page will load as expected.